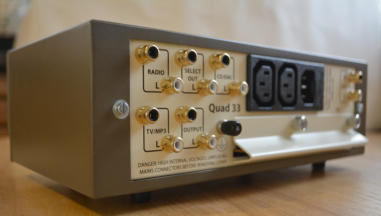 The photos above show a Quad 33 fitted with our rear panel upgrade. We dismantle your old rear panel and de-solder all the
wiring from the old sockets. We then fit the new completely re-engineered back plate along with gold plated RCA connectors
and fused IEC in let wit dual outlets. The new sockets are then rewired back in place. The old mains ribbon cable is replaced
with tri-rated cable. The new panel is powder coated and silk screened, in tasteful colours to match the original panel when it
was new. In place of the original plastic hinged doors, the rear slot-in 'tape' and 'disc' area has a neat screening cover that
screws neatly into place via two captive bolts.
Use the code, '33RPU' on your service request form.
The specification is as follows:
•
IEC switched fused mains inlet in place of original 3pin Bulgin plug and 20mm fuse holder.
•
Two IEC 3 pin 240V ac outlets to power Quad 3O3, tuner, etc. and 1 fused IEC mains inlet
•
The old 'tape replay' input is now labelled CD/DAC. The sensitivity is set for high output sources like CD/SACD/Blu-ray
and DAC output levels or you can still use it for tape replay. 'Radio 2' input is now labelled 'TV/MP3'.
•
The old tape record output is labelled 'Select Out'. Whatever source (Radio, MP3 or Disc) is selected a pre volume
signal is available as a monitoring/recording outlet.
•
The new panel overlay is professionally designed by Amplabs and manufactured in the UK.
•
The old serial number of your 33 is transferred onto the new rear panel in the area highlighted on the image.
Note: The old sockets and plastic rear panel removed from your Quad 33 will not be returned unless requested. We may
save your old panel for spares.
Quad 33 REAR PANEL UPGRADE (Q33RPU)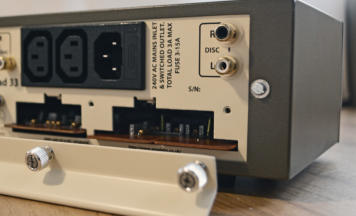 For ure listening pleasure